Model:DDTE022-6
Energy Saving Dustproof Outdoor Telecom Cabinet With Air Conditioner, Rectifier, Battery, For Base Station
DDTE022-6 Outdoor Telecom Enclosure



1. Application

The DDTE022-6 Outdoor Telecom Enclosure is mainly used in telecom tower, wireless communication base station, such as 3G system, communication/network integrated service, access/transmission switching station, emergency communication/transmission, etc.


2. Structure

The cabinet, made of galvanized steel, is divided into equipment compartment and battery compartment. The cabinet is easy for installation, and with good sealing performance.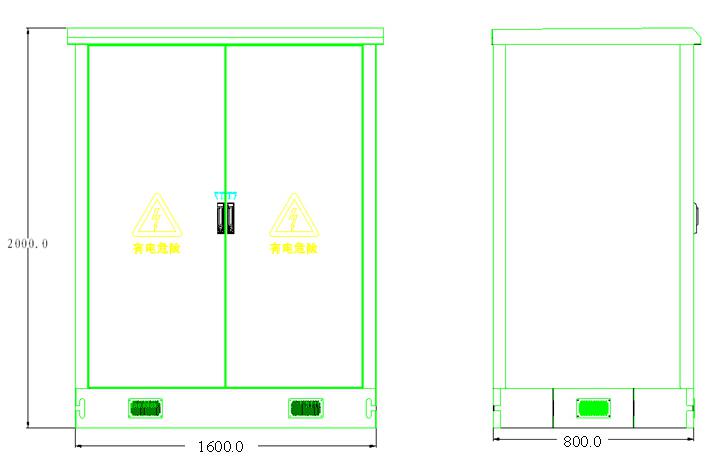 Equipment Compartment: The right part of the cabinet is equipment compartment, which is separated from the battery compartment for heat insulation of the equipment space.


Battery Compartment: The left compartment is battery compartment which is used for installing batteries. The cabinet body has heat insulation foam, which can keep the temperature inside the cabinet. The cabinet includes exhaust device, which can release harmful gas generated by the batteries.


Cabinet Door and Lock: The cabinet door uses embedded structure. The door opening angle is larger than 110°and the door limit device can limit the opening angle. The lock is theftproof three point lock, supporting padlock. There's open door alarm sensor, which works together with the environment monitoring unit.


Cabinet Dimension: W×D×H 1600mm×800mmx2000mm


3. Features

(1) The cabinet is dustproof, sunproof and rainproof, which is used in outdoor environment.

(2) Three cooling options for the cabinet: fans, heat exchanger or air conditioner.

(3) -48V lamp is installed inside the cabinet.

(4) The cabinet is installed with Environment Monitoring Unit, door alarm, temperature and humidity sensor, smoke sensor, water sensor etc., which can work together to monitor the inside environment of the cabinet.

(5) The layout of the cabinet is reasonable, which will facilitate cable access, fixing and grounding. There're entrance holes individually for power cable, signal cable and optical cable.

(6) All the cables used in the cabinet are made from flame retardant materials.

(7) Cabinet size can be custom made.


4. Technical specs

(1) Applicable environment conditions:

Environment temperature: -40°C ~ + 60°C

Environment humidity (RH): ≤95% (at + 40°C)

Air pressure: 70kPa ~ 106kPa

(2) Material: hot dip galvanized steel

(3) Surface treatment: degreasing, derusting, rustproof phosphating (or galvanizing), powder coated.

(4) Cabinet load bearing: ≥600kg

(5) Ingress Protection: IP55

(6) Flame retardance: comply with GB5169.7 test A

(7) Insulation resistance: the insulation resistance between grounding devices and cabinet body parts is not lower than 2X104M/500V(DC).

(8) Withstand voltage: the withstand voltage between grounding devices and cabinet body parts is not lower than 3000V(DC)/1min.

(9) Mechanical strength: each surface can bear upright pressure>980N; after the door is open, its outer end can bear upright pressure >200N.