AC220V 500W Air Conditioner
返回上一页
Model:TC06-50JFH/01
AC220V 500W Industrial Compressor Air Conditioner For Telecom Cabinet, UPS Room, Base Station Room
AC220V 500W Air Conditioner
Model: TC06-50JFH/01

Foreword
The manual mainly includes TC06-50JFH/01 air conditioner's application, technical parameters, operation instruction, product installation and maintenance, etc.

Note:
The manual only apply to TC06-50JFH/01 air conditioner. Our company reserves the right of final explanation of the content of this manual.

Any operation on this product must be performed by professional engineering and technical personnel.
Introduction
1. Introduction And Application Scope
TC06-50JFH/01 Air Conditioner is a full automation temperature control product. It uses intelligent controller to control the whole system of the air conditioner. According to the variation of environment temperature, the intelligent controller can automatically detect, operate and record the whole system's operating time, power consumption, event and historical data. It can store 100 event records and 1280 historical data records, and can enquire 256 days' daily record information. The product is widely applied in telecom cabinet, small and medium sized telecom room, UPS room, outdoor base station room, etc.
2. Features
(1)Strong adaptability
(2)High intelligence
(3)High precision
(4)High reliability
(5)Low noise
(6)Low energy consumption
(7)With 4 way switching value detection
(8)With 1 way room air conditioner control
Voltage input range: 220VAC±15% 50/60Hz
With dry contact alarm output
3. System Principle Diagram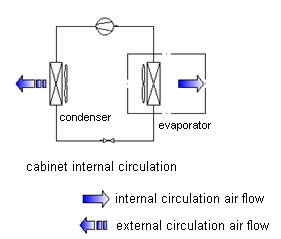 Diagram 1: System Principle Diagram
4. Standard Compliance
Table 1 Standard Compliance
| | |
| --- | --- |
| Standard | Description |
| GB/T 17626.7-1998 | Electromagnetic compatibility |
| GB4706.1 | Safety of household appliance and electrical appliance with similar use. |
| GB4798.1 | Environmental conditions existing in the application for electric and electronic products - storage |
| GB4798.2 | Environmental conditions existing in the application for electric and electronic products - transportation |
| GB4798.3 | Environmental conditions existing in the application for electric and electronic products - usage |
5. Technical Parameters

500W 220VAC Air Conditioner (Model: TC06-50JFH/01)
Environmental Performance

working environmental temperature

-20°C ~ 55°C

storage temperature

-40°C ~ 70°C

working humidity

≤95%

Thermal Performance

rated cooling capacity

550W(L35 L35)

500W(L25 L35)

Electrical Performance

rated input current

1.0A(L35 L35)

0.9A(L25 L35)

rated input power

220W(L35 L35)

198W(L25 L35)

input voltage

AC220V/50Hz (185V~264V)

Refrigerant

R134a

Noise

≤62dB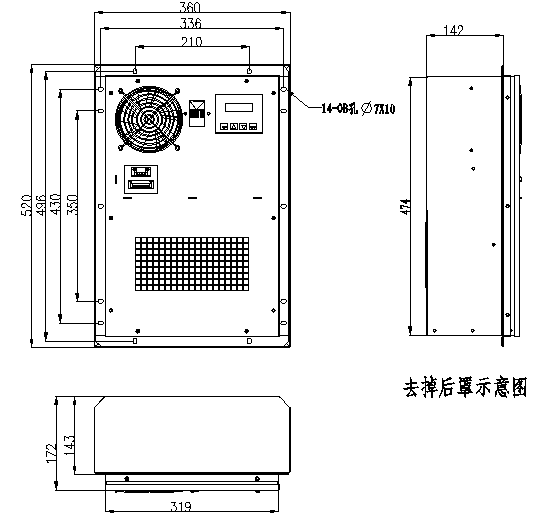 Diagram 2: Dimension of 500W 220VAC Air Conditioner
6. Electrical Wiring Diagram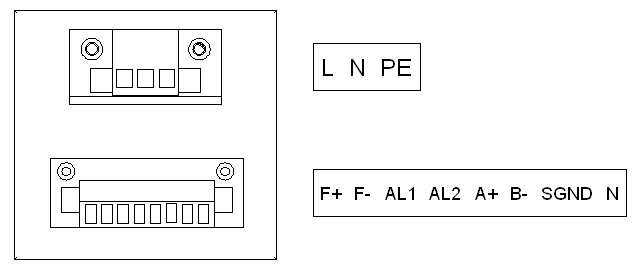 Diagram 3: Electrical Wiring Diagram
Wiring Ports:

L N PE : power supply port (voltage input: 220VAC±15% 50/60Hz)
F+ F- : direct ventilation output port
AL1 AL2: general alarm output port
A+ B- SGND : RS485 communication port
N : not connected pin

7. Pictures